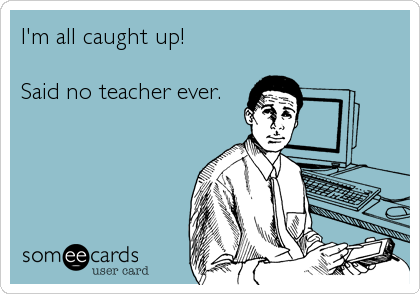 Teachers have a lot on their plate, and the last thing you want is to have to sit through hours of professional development sessions that are irrelevant, or way above or below your expertise level. This is exactly what Brian, Jennifer and I wanted to avoid when planning our professional development sessions for our Course 2 final project.
Since Brian is also working towards obtaining his GET certification, the topic for our PD focused on providing training on a variety of GSuite tools. Moving away from the classic model of delivery via lecture, a carousel of sessions seemed ideal, as it would allow teachers to have a choice on which sessions to take based on their previous experience with the tools and with their classroom needs. The GSuite tools chosen for our upskilling are Gmail, GoogleDocs, GoogleSheets, GoogleSlides, GoogleClassroom, and GoogleEarth.
Early on, we agreed to frame the whole PD around the Connect-Extend-Challenge Visible Thinking routine. This routine will allow teachers to reflect on what they already know about the different GSuite tools on offer during the PD sessions (Connect), so they can make decisions about which ones to attend. The carousel included four rotations, consequently, the teachers could attend four out of the six sessions offered. At the end of every session, teachers could complete the Extend part, reflecting on what new skills or knowledge they acquired or how they expanded their understanding of the tool. This, in turn, will allow the teachers to fill in in the Challenge section with outstanding questions or wonderings. At the end of the PD session, we scheduled a time for all teachers to look at all their notes in the Challenge section to provide feedback for further opportunities for professional development.
Acknowledging the various levels of competence for each tool amongst staff, we agreed to offer beginner and intermediate goals for each session, so teachers who are already acquainted with the tool could still add new skills to their repertoire. In order to do this, each session will be led by a teacher 'expert' on the tool, supported by a variety of online materials to help with differentiation. We also scheduled two opportunities for unstructured time where teachers can to talk to any of the teacher experts.
Our online collaboration flowed very well, and we made use of email and GoogleDocs to collate ideas and to compile the final product. After agreeing on the basics of what we wanted to accomplish, each one of us took responsibility for some specific tasks. Once they were done, we communicated to ensure we had not forgotten anything, and that we were ready to publish. We all were very clear with our timings and availability, so that made the process smooth and stress-free for all.
Without much further ado, here is our PD proposal:
Image sources: